How Should the Home Entrance Decoration Be?
Although the home entrance decoration always seems to be neglected, the first place that reflects your home is the anteroom. The fact that the entrance part of the house is arranged in a very simple and stylish way will make your house more spacious and aesthetically more elegant. What could be more beautiful than a warm environment that welcomes you when you first enter the house?
If you are looking for ideas on how to decorate a home entrance, you can take a look at our suggestions.
Decoration with Wooden Crates
Using a cloakroom is nothing more than taking up space for small home entrances. For this, you can design a modern shoe rack from wooden crates. You can design a furniture that you can use both as a sitting place and as a shoe rack with a pouffe cushion you will put on it. Moreover, you can add a more modern atmosphere by choosing pastel tones.
Use Mirror
The use of mirrors in home decoration is one of the most important ideas to make small spaces look larger. If you have a very narrow and small entrance, you can definitely choose a large mirror. In this way, the area will appear wider. With the mirror that you will hang on both walls, your hallway will appear wider.
Console Selection
If you are going to choose a console for home entrance, it will be beneficial to choose thin and long models.
Instead of choosing a cloakroom, a thin console will make your home entrance more modern and stylish.
Floor Is Very Important For Home Entrance
Floor color is one of the most important factors for the entrance of your home. Instead of choosing a carpet for the floor, you can choose colorful floor coverings and decorate it with a small middle carpet.
Since the house entrance is one of the most frequently used areas of the house, it is one of the most polluted places. For this, you can choose darker ground tones instead of a white background or light background colors.
Innovate on the Walls
Entrance walls are one of the best areas for hanging paintings and mirrors. However, brick-like wallpapers and wall covering products are generally preferred for house entrances in modern architecture. You will suddenly change the atmosphere of your home with brick-like walls that will make you feel as if you are outside.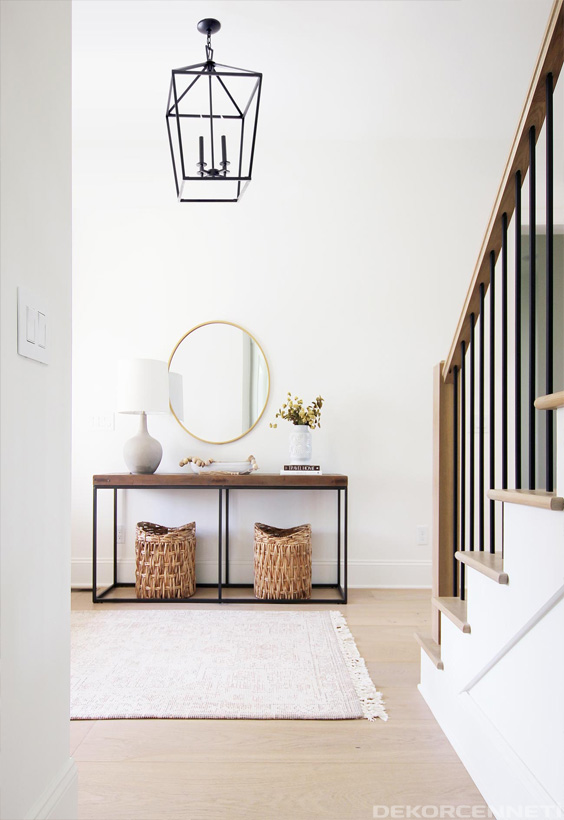 Don't Miss the Plants
You can turn your house entrance into a garden with colorful flowers and lush plants at the entrance of your house. If you have a narrow house entrance, pots that you can mount on the wall may be useful. Hang the pots on the wall and place fragrant plants inside. There can be no idea to evaluate a narrow space better than this. You can also use flower pots with shelf systems.
The Entrance Cannot Be Without Decoration
You decorated all the rooms of your house according to your own tastes. However, not touching the entrance of your house will not change the atmosphere of your home. You need to decorate the entrance as well as a room.
Simplicity and elegance should be in the foreground
Quite colorful or dark wall colors, furniture are not suitable for the hallway. When you enter your home, you should prefer light tones to open your heart. With an off-white wall and off-white tiles, you can turn your hallway into a stylish and simple room.
Since the area is small, it would be beneficial not to overwhelm the entrance area with too many accessories. You need to stay away from consoles that are large enough to prevent you from moving.
Choose the Right Lighting
Entrance lighting should generally be a light that does not strain the eyes. You should not consider the yellow color for the entree. White tones will be more suitable to illuminate this area in softer tones and does not require light. Wall-mounted lamps for entrance lighting will look very stylish both decoratively and will prevent your lighting problem.
For the entrance lighting, you should prefer a light in a tone that will reflect the wall and floor colors instead of dim light.